Wep Ronpet 2013: A Shemsu's First Trip to Tawy
Submitted by

Sarytsenuwi

on Sat, 09/21/2013 - 11:26am
On the afternoon of August 30th, 2013, I stepped off the train in Joliet, Illinois, the home of Tawy House -- the House of Netjer's main temple -- and the city in which approximately twenty-five members of the faith would celebrate the Kemetic New Year in just four days time. Daryt and Meza were there to greet me at the station, offering welcoming hugs and answering my many questions on our drive back to the retreat hotel. I dropped my things off at my room and took a few minutes to process that I was finally going to meet many of the acquaintances with whom I had talked and worshiped online over the course of the past two and a half years. After initial introductions, a number of us headed across the street to a local restaurant and during that first meal, we laughed, shared stories about our experiences with Netjer, and generally had a wonderful time. I went to sleep that night feeling thoroughly optimistic that this was going to be an amazing experience.
The next few days were a blur of thought-provoking conversations, inspiring lectures, powerful heka, and ka-feeding fellowship. We began our gathering with a form of guided meditation led by Hemet, which encouraged us to seek out the god of the year, Heru-sa-Aset. Other activities included a discussion of the significance of music in our efforts to honor and connect with the gods, and in small groups we created our own musical works for Netjer. One group wrote a joyful chant for Wepwawet which had everyone cheering, while another produced a strong, percussive march for their warrior Parents. We also learned about less-commonly known names of Netjer such as Sopdet and the Ogdoad, and tried to think of ways we could each reach out to at least one new Netjeru this year.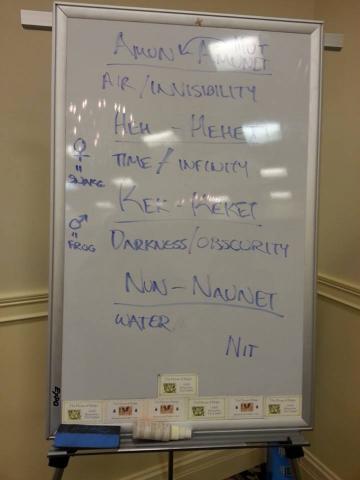 Studying the Ogdoad with Tabau.
Along with our scholarly pursuits, we engaged in various hands-on forms of heka, such as when Daryt led us in making small healing amulets in Sekhmet's name. We also wrote letters to other members of the House, wishing them all good things for the New Year. As a relative newcomer to the group, I particularly appreciated the amount of time I was able to spend talking with Hemet, the priests, and other members who had been a part of the House for many years, learning more about the history of Kemetic Orthodoxy and gaining new insight and perspective on Netjer.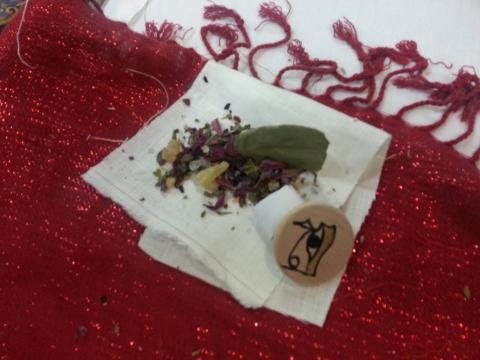 Contents of one of the Sekhmet healing amulets.
The sixth day festival honoring the akhu, as led by Rev. Raheri, proved to be a very emotional experience for many of us. While I've attended a number of these events online, doing so in person was somehow simultaneously intensely personal and yet connective, forging a bond amongst those of us there. This sense of connection was further strengthened at a later event as we took turns announcing one another to the community by our given Shemsu names, and celebrated the elevation of three new leaders in the faith: two w'ab priests, Mose and Nesyut, and one new reverend, Tanebet. Even informally our sense of community grew, as during the periods of downtime between official events we had the opportunity to just sit and talk with each other, and to purchase or bid on crafts or services from the Member Marketplace and the auction. As the days progressed, and my sense of place within the community grew, I felt prepared to bring in the New Year on the 3rd of August not just with online acquaintances, but with friends and family.
Daryt examining some of the items available in the auction.
My sibling and roomie Tenu and I pushed ourselves through the drowsy haze of waking up before dawn to purify, grab our offerings, and rush out to the car. We drove through the serenity of a sleepy town on the edge of morning to reach Tawy House around 5:00 am. Once there, we changed into our ritual whites, and waited for permission to enter the Truth and the Mother Temple. We welcomed each of the gods as the priests carried Their icons in, sang songs to the Eye of Ra in all Her incarnations, listened to sacred texts read aloud, and loudly shook sistra to welcome in the New Year. We protected ourselves for the coming year by writing our troubles on red, clay pots and destroying them, burning them, and then casting out all ills. Finally we cut up an edible image of Ap_p, so that the uncreated one would not get the better of us for another year.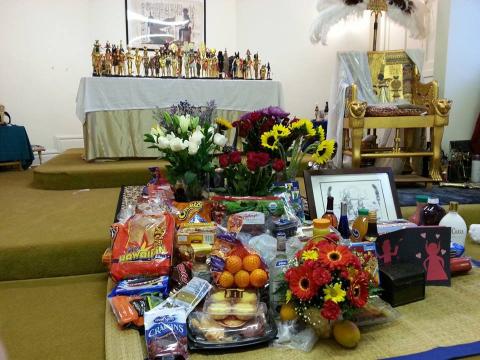 Offerings for Netjer on Wep Ronpet.
After completing these rituals in the temple, we all gathered as a group to revert the many offerings presented to Netjer in celebration of Wep Ronpet.  A few of us then took a few minutes to go back into the temple and greet some of the Netjeru at their individual shrines in this sacred place, as well as greeting our ancestors at the Tawy akhu shrine.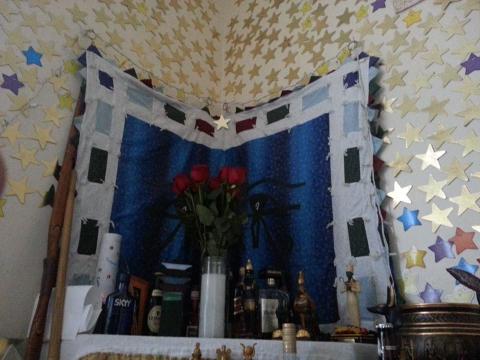 Tawy akhu shrine.
Far too swiftly things drew to their natural conclusion, and we headed back to the hotel to rest and recover from the early morning. As Tenu and I needed to return to our respective homes on Sunday morning, we said our goodbyes after Saturday's dinner, embracing those who had so warmly welcomed us into this spiritual family, and promising to see each other again.
Dua Netjer! Dua Heru-sa-Aset in His year! Nekhtet!
(All photos used in this blog post were taken by W'abet Darytessekhmet.)