The Wesir Amunemma'atef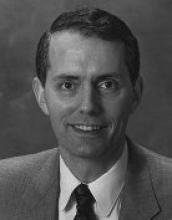 I hadn't really ever thought of the phrase "In Memory" before until I was working on this page tonight. After typing out the phrase a couple times, though, something in my head clicked and it took on a second meaning. Terry is very much so in my memory at all times. Though I didn't know him for long, and though I did not know him as deeply as some of the other Shemsu did, there was still an exchange of friendship between he and I that has remained past his death.
Today is the feast of Wesir, a fact I wasn't aware of when I made the decision to begin work on this section of Kemet.org tonight. It is fitting that my offering on this day to the Lord of the Beautiful West be to one of His number amongst the Blessed Dead, the Wesir Terry Atwood.
I was the first priest to learn about Terry having died. It was my duty to make sure the word got out to the rest of what had happened. A year later, it is now also my duty to put forth the articles, poetry, and images that the House of Netjer's Shemsu have given me for Terry's memoriam.
Terry, you have not forgotten us, and we shall never forget you.
Imakhu Sekhausmutes, meryBast
February 13, 2000
---
"Hymn to Ma'at"
O Ma'at, She who gives order to incomprehensible reality.
You give me vision that I may behold the beauty of Your many forms.
You give me hearing that I may be transported by Your delicate harmony.
You give me taste that I may savor the sweetness of Your becoming.
You give me smell that I may breathe the scent of Your justice.
You give me touch that I may feel Your power as You move in the world.
O Winged One! Protect and guide me as I walk in Your way.

Terry Atwood
September 1998
---
"a brief minuet"
a memory
that lasts as long
as necessary
is the most powerful

a gesture like
a sigh
that floats
on cassia fingertips

a ghostly kiss
left on the forehead
of a little girl
who does not forget the warmth
that dissipates too quickly

son of the hidden lord
who walked his own way
too soon,
love still lingers
unwilling to die
as the vault of heaven
embraces you

a memory
endures
as long the hearts surrounding
its chamber embrace it.

the after image
relives the breath that
is life
so that all may live
in return.

Imakhu Inibmutes
February 12, 2000
---
"Hymn to Amun"
Amun, Amun, my Beloved Amun
   I have seen Your hand in the trees and
heard Your voice in the wind
O Amun, Whose face is hidden
But Whose work is evident in all that is --
When I am frightened and I have confessed
my concerns to You and You have heard my cries
Where my heart trembled with fear, and sadness
Thy voice commanded me to trust You
And as I did all manner of needs were met.
O Amun, I do not always understand immediately
the lessons that You have placed before me,
but know that in Thy Name of Amun
I have found succor there.

Imakhu Niankhsekhmet
February, 1999
---
"To Our Brother Terry"
You have journeyed far ahead
To the Horizon in the West.
Our tears your inundation
Springing deep within our souls.

Our brother who's in heaven,
Nut enfolds you in Her wings.
Ma'at blesses you with purity;
In your place among the stars.

From high above you watch us,
As we feed your ka with love.
We thank Netjer that we knew you
While you still were here on earth.

Eternity is now your mantle
And forever is your robe.
You will shine upon us always,
By Netjer's side, the rest of time.

Shemset NeferuHethert
February 13, 2000
---
"to the west"
To the West, to the West, to the West, to the West,
The Beautiful Mistress of the Horizon embraces you
The Lady of the Life of the Two Lands protects you
The Noble Woman of the House greets you
The sun falls behind your back as you step past the Limit
The scales are level
The Scribe and the Royal Son regard you
Your unique heart does not speak against you
The feather is measured true
Ma'at is set right.

You are justified.

You are the Wesir,
Shining as gold.
Offerings of bread, and beer, and all good things
Are placed before you a thousand times a thousand times a thousand times.

Your name is warm in the hearts of those who loved you
Your cares lie outcast
Your troubles are forgotten.

Beloved, Beloved, Beloved, Beloved,
Your father, the Hidden One, in His Name of Ra, in His Name of Wesir,
Draws you to His side.
You are dressed in the finest raiment.
Your ba is satisfied.
Your ka is content.

You are justified.

You are welcome.

Imakhu Sekhausmutes, meryBast
February 17, 1999
Photos: